When my parents visited us recently, they noted that they expected to go to one or two coffee shops with me since I seem to frequent them so often. (They watch my Instagram Stories.) It's true. I've fallen hard for the fantastic coffee - and tea - scene here in San Diego. And I'm on the verge of admitting that I have become a bit of a snob about where I order my caffeine. Can you blame me? Not only are the drinks impeccably well made, the designs of these shops are top-notch, which has the added benefit of making them highly instagram-able. See for yourself. (Note that these are listed in no particular order because I can't pick a favorite. I just can't.)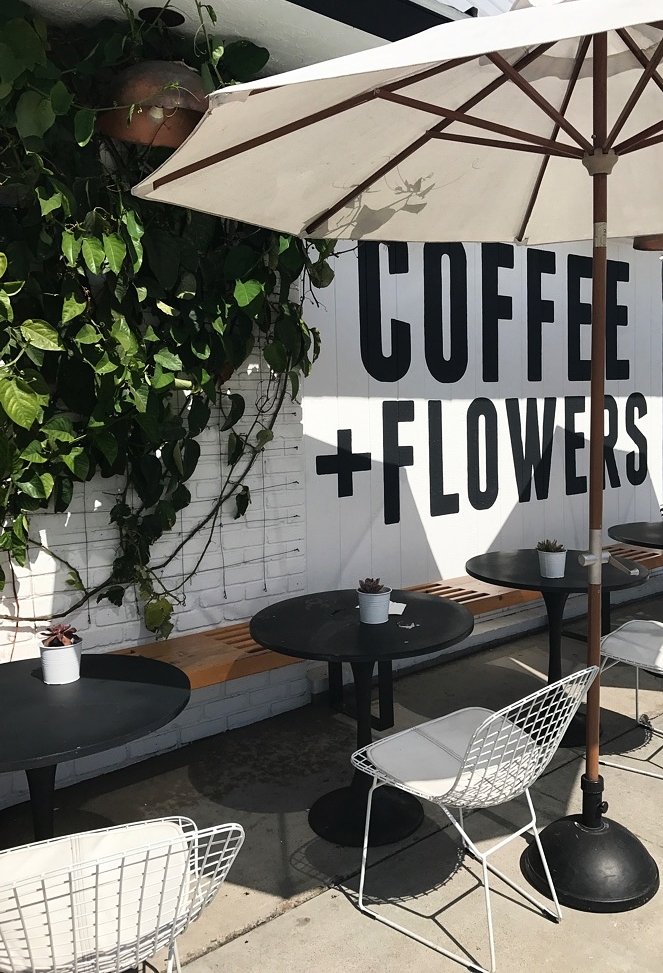 Communal Coffee is a coffee shop after my own heart, because not only does it serve caffeine-done-right, it also shares its space with a lovely flower and gift shop, Native Poppy. The combination absolutely can't be beat.
The iconic COFFEE + FLOWERS wall has become a bit of an Instagram darling, so If you come just for that, I understand. But you'll come back for the lovely lattes (the latte flights are worth a try - the floral flight is my favorite) and delicious avocado toast, and you'll leave with a little gift that made you think of THAT friend when you saw it - plus, I'm betting, a fistful of fresh flowers.
Communal Coffee and Native Poppy
2335 University Avenue SD, CA 92104
Okay, I'll admit that I first went to Holy Matcha solely for the design aesthetic and not at all for the drinks. I had never tried matcha, but from what I had gathered, the green drink didn't seem like my cup to tea (so to speak). But all credit goes Holy Matcha and their lovely employees, who steered me in the right direction and have some wonderful blended drinks to try if you aren't ready to dive right in with their ceremonial blend. And on a hot San Diego day, their iced matcha drinks are a fantastic refreshment. (Not to mention the soft serve. And donuts. And now they are serving waffles?? Yes, please.)
And back to that design aesthetic? It's so good. Go for the design, stay for the matcha.
Holy Matcha San Diego
3118 University Avenue SD, CA 92104
New to the San Diego coffee scene but an old favorite - for good reason - in the Pacific Northwest, Coava Coffee recently opened in downtown San Diego. They take their coffee seriously here, much to our benefit, and the black paint & wood accents in the shop will make you want to stay and savor their lovely work and quite possibly go back for seconds. Or thirds. Watch your caffeine intake here, my friends.
Coava Coffee
400 West Broadway, SD, CA 92101
I go to Moniker for a lot of reasons, but my first visit was because of the general store. It is exquisitely curated. But this is not about the shop (but definitely check out the shop). No, this is about the coffee that is served alongside the shop. My bar for an excellent flat white is one that is the perfect temperature, creamy and strong, yet drinkable straight from the cup without a thought of putting a grain of sugar in it. Their coffee exceeds that standard and keeps me coming back for more. And can we talk about those tiles?
Moniker Coffee | Moniker Group
Liberty Station, Point Loma, SD
If you admire a clean, modern aesthetic like I do, Holsem Coffee is for you. And if you like a strong but smooth cup of coffee paired with a delicious pastry, Holsem Coffee is for you, too. Have I convinced you yet?
I like the vibe of Holsem. It feels like a coffee shop that you might find in the heart of New York City. It's bustling, but quiet, with most people working away on their various devices with headphones in and the world tuned out. But there are also small tables of two or three - friends catching up, colleagues taking a break. Holsem takes the laid back nature of San Diego and elevates it to a cool but casual coffee destination.
Holsem Coffee
2911 University Ave, SD, CA 92104
I LOVE the East Village. As a city girl, it ticks all the right boxes for me. So I'll admit that I haven't been to the Coffee & Tea Collective location in North Park because I prefer to have my caffeine fix here (although I'm sure the other location is lovely).
The mix of materials is what struck me first about this space. Just look at the rough concrete, textured walls, wood benches, and lucite furniture. Once I stopped gawking at the design, I sat down to enjoy a great iced coffee and some of the best avocado toast that I've had in town. (I know I'm repeating myself, but I have to try the avo toast in every shop coffee shop that offers it.) And what's particularly great here is the people watching: it's large doors open out to the street, and it also shares a space with Consortium Holdings, the force behind some of the biggest restaurants in San Diego.
Coffee & Tea Collective Downtown
631 9th Avenue, SD, CA 92101
All images published above were shot using an iPhone.